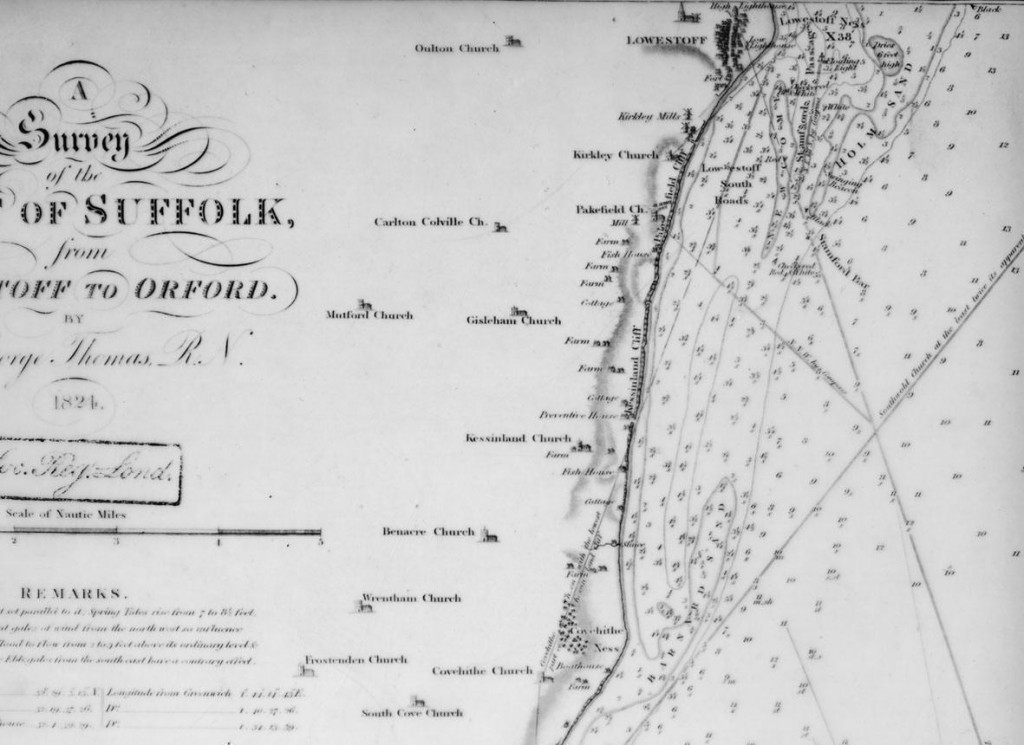 In 1681, Samuel Pepys, then Secretary of the Navy and Master of Trinity House, assigned Naval Officer Captain Greenville Collins to the task of carrying out a complete survey of the British Coastline. Collins was also a younger Brother of Trinity House suggesting that he was a respected navigator. The task occupied him for seven years and from it he produced the first complete Pilot Book in English, published in 1693, it contained forty-eight harbour and coastal charts including twenty-six pages of Tide Tables and Sailing Directions. Although this work was a major advance, another hundred years passed before charts of the quality of those engraved on copper plates by the Hydrographical Office became available. The charts here are both early examples of that period, indeed fine works of art.
The chart above is part of a survey dated 1824 by Capt George Thomas RN and is shown by courtesy of the Hydrographical Office. It covers the Suffolk coast from Covehithe to Lowestoft  before its Harbour was built. At that time there was a thriving fishery and boats were built and launched from the beach. In 1833 the Norwich and Lowestoft Navigation Co built a new harbour at Lowestoft, but were beset by legal problems with Gt Yarmouth harbour over interference with the essential outflow of water.
At that time  William Hewett, Commander of HMS Fairy, came under the orders of the Admiralty to make a new survey of the coast and harbour. This is shown in part of the chart below, however in November 1840, a terrible storm struck the east coast and HMS Fairy was lost with all hands during a severe easterly gale. The chart below is based on Cmdr Hewett's survey dated 1834, the harbour cutting together with the positions of the Highlighthouse and Lowlighthouse can be clearly seem.